A Guide to Charcuterie Boards and Wine Pairing
By - The Modern Day Wife
26 August, 2020
We may earn a commission when you purchase through any link on this page.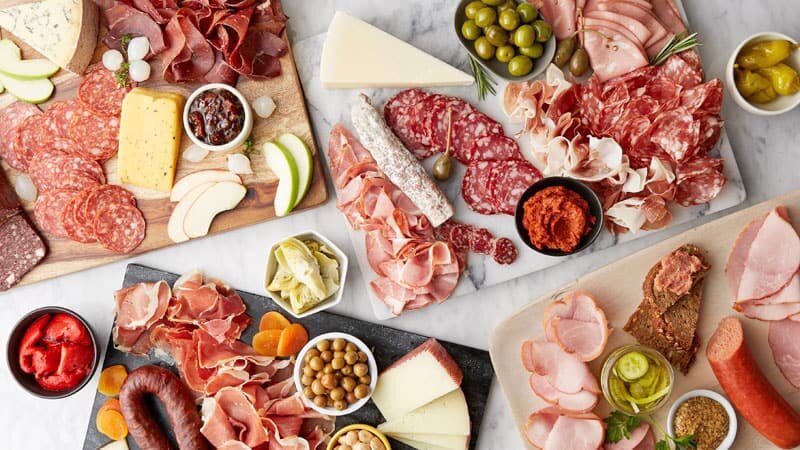 I am always looking for quick appetizers and snacks that don't require much effort. With our busy schedules, no-stress recipes are our best friend. Whether you are hosting a dinner and want something to keep your guests occupied while you finish preparing the main course or just want an easy appetizer for you and your family, charcuterie boards are the answer. The one thing that turns your charcuterie board up a notch is WINE! Your charcuterie board is not quite complete until you pair it with the perfect wine. There are endless charcuterie board and wine pairing recipes so I wanted to share a few tips to make your next dinner party a bit smoother. 
---
Preparing the Charcuterie Board
1. Start with a fun board
A wooden cutting board is my go-to! Union Wood Co. has a great Solid Wood Cutting Board that is reversible and super durable. Not only is it great for charcuterie board aesthetics, but a kitchen staple piece.
2. Choose your meat
Pick a variety of cured meats such as prosciutto and salami for different textures.
3. Pick a variety of cheeses
Choose different cheeses that pair well with your meat choices. You want to choose 2-3 different cheeses to accommodate everyone. I like to pick a soft, semi-soft, and hard cheese for variety.
4. Pick 2-3 different vegetables 
Olives, roasted tomatoes, and roasted peppers are a charcuterie board favorite!
5. Choose crackers and dips 
Choose from a variety of crackers such as crostini or Lesley Stowe's Raincoast Cheese Crips and pair with different dips like honey mustard or a bruschetta spread. 
6. Arrange on board 
This is the fun part! Use your creative side and arrange all of the items on the board.
Picking the Perfect Wine
White Wines such as Macedo Winery's Classico White from Toronto or San Simeon's Sauvignon Blanc from San Antonio Winery in Los Angeles goes with: Goat, Brie, Mozzarella, and Havarti cheeses
Red Wines such as XOXO Wine's Simply Smooth Red from Ontario or Brotherhood Winery's Merlot from New York goes with: Pepper Jack, Aged cheeses, Cheddar, and Manchego cheeses 
Sparkling Wines such as Vancouver Urban Winery's Chardonnay 2012 or Spade & Sparrows Rosé 2.0 from California goes with: Feta, Monterey Jack, and Gorgonzola cheeses 



Photo Credit: Macedowinery.com, Wine.com, Xoxowines.com, Winechateau.com, Wine411.ca, Pollograph.com
Now that you're a charcuterie board pro, it's time to start planning your next dinner party to put your skills to work!