Fall Activities to Start Planning
By - The Modern Day Wife
01 September, 2020
We may earn a commission when you purchase through any link on this page.
Fall is quickly approaching and honestly, I couldn't be more happy. Don't get me wrong, I love all things summer, but I have to admit I love fall a tad bit more. The changing of the leaves, the brisk air, fall fashion, pumpkin spice everything, apple picking…need I say more? Now that we're getting closer and closer to fall it seems like the perfect time to start planning out all of our fall festivities. I'm giving you the ultimate Fall Must-Do list so clear your calendars and grab your pumpkin spice latte! 
Visit a Pumpkin Patch
Not only can you visit the pumpkin patch, but you can also fill your day with endless activities at Hank's Pumpkintown. Hank's Pumpkintown offers a market filled with all of the fall treats you could possibly want and a maze park with a wide variety of games and activities. 
Address: 240 Montauk Hwy., Water Mill, NY 11976
Aldor Acres Family Farm has a pumpkin for everyone! They have 15 different types of pumpkins making it easy to find the perfect one fit for you. 
Address: 24990 84 Ave, Langley City, BC V1M 3P4
Mr. Bones offers a great variety of pumpkins, but also has great fall activities for you and the family! Pick out the perfect pumpkin and then explore the pumpkin village, straw maze, petting zoo, and so much more. 
Address: 10100 Jefferson Blvd., Culver City, CA 90232
Photo Credit: Kdhamptons.com, Bcfarmfresh.com, Glitteratitours.com
Go to an Apple Orchard 
Pick your own apples at Wilken's Fruit & Fir Farm! Wilken's also has pick-your-own peaches, pick-your-own pumpkins, a corn maze, a farm market, and a winery. Be sure to stop in the bakery before you head home to treat yourself to apple cider donuts. 
Address: 1335 White Hill Rd., Yorktown Heights, NY 10598
Albion Orchards is known as one of the top four orchards in Canada, offering a large variety of apples to pick yourself or for purchase inside the country market. Make sure you visit the country market where you can get fresh baked pies and fresh apple cider!
Address:  14800 Innis Lake Rd., Caledon East, ON L7C 2Y8
Willowbrook Apple Farm is a family operated farm that has been around for over 100 years. The farm is the quintessential idea of a fall outing with its quaint red barn, white picket fence, and vintage tractor that will take you on a ride to visit the farm animals. Willowbrook also gives you the ultimate hands on experience with not only you-pick apples, but you-press apple cider! 
Address: 12099 S Oak Glen Rd., Oak Glen, CA 92399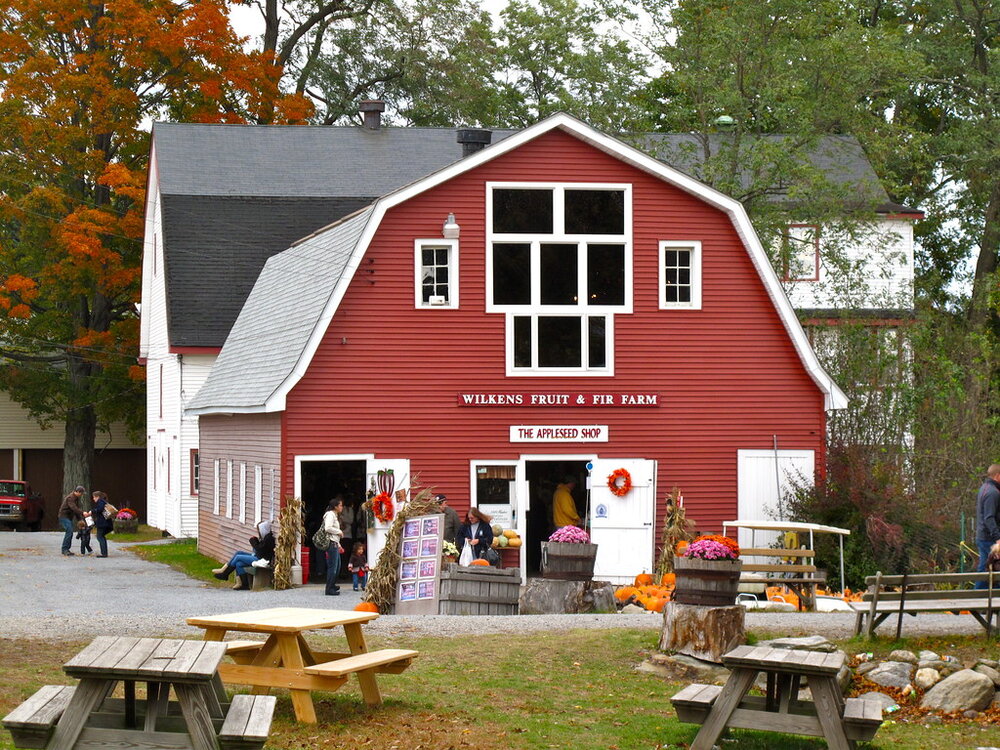 Photo Credit: Flickr.com, Tripadvisor.com, Timeout.com
See Fall Foliage
Although there is not much nature to the big city, NYC has a few gems to for you to escape the hustle and bustle of the city. Central Park is absolutely beautiful in the fall. The 842 acre park is filled with fall colors. Take a walk through the park this fall or grab a sweatshirt and have a picnic in the park.
Address: Runs from 59th St. to 110th St. and 8th Ave. to 5th Ave. 
The Highline is an old railroad track transformed into a walkway overlooking the city. It's a great place to take a leisurely walk year round, but the fall foliage makes it a true site to see during the fall months. 
Address: Runs from Gansevoort St. & Washington St. through 34th St. & 12th Ave. With entrances on Gansevoort St. and 23rd St. 
Stanley Park is one of the best places to see fall foliage in Vancouver. Visit the popular Stanley Park and take a walk or bike ride along the seawall and take in the many colors of fall. 
Address: Vancouver, BC V6G 1Z4, Canada
Take a fall walking tour through the Arboretum. See the reds, golds, oranges, and yellows of fall and learn about why leaves change color during this time. 
Address: 301 North Baldwin Ave., Arcadia, CA 91007
Photo Credit: Thehighline.org, Beaconhotel.com, Dailyhive.com, Losangeles.cbslocal.com