7 Classic Sushi Rolls: What is Really in Your Roll?
By - The Modern Day Wife
08 September, 2020
You either love sushi or you don't. There is no in between. I am absolutely a sushi lover. I feel like I never stop craving sushi. If you are anything like me, this blog post is for you.
The most common type of sushi is known as uramaki and maki. Uramaki is different fish and vegetables rolled in seaweed and wrapped in rice. Maki is similar, but the seaweed is on the outside. 
As much as we love sushi do we really know what is in each roll? I have my two favorite sushi rolls (spicy crab and spicy yellowtail roll) and usually never try anything new. This is mainly because as much as I love sushi, I am no sushi connoisseur and have some learning to do on what is really in each sushi roll as the variations are endless. 
Below are seven of the most popular sushi rolls that are likely to be in any sushi restaurant. Keep reading to find out what the most popular sushi rolls consist of to help you plan your next sushi dinner date. I even included sushi restaurant recommendations to make things easier. 
1. California Roll- By far the most popular sushi roll. The California roll contains cucumber, crab, and avocado.
Where to get it: Blue Ribbon:  119 Sullivan Street New York, NY 10012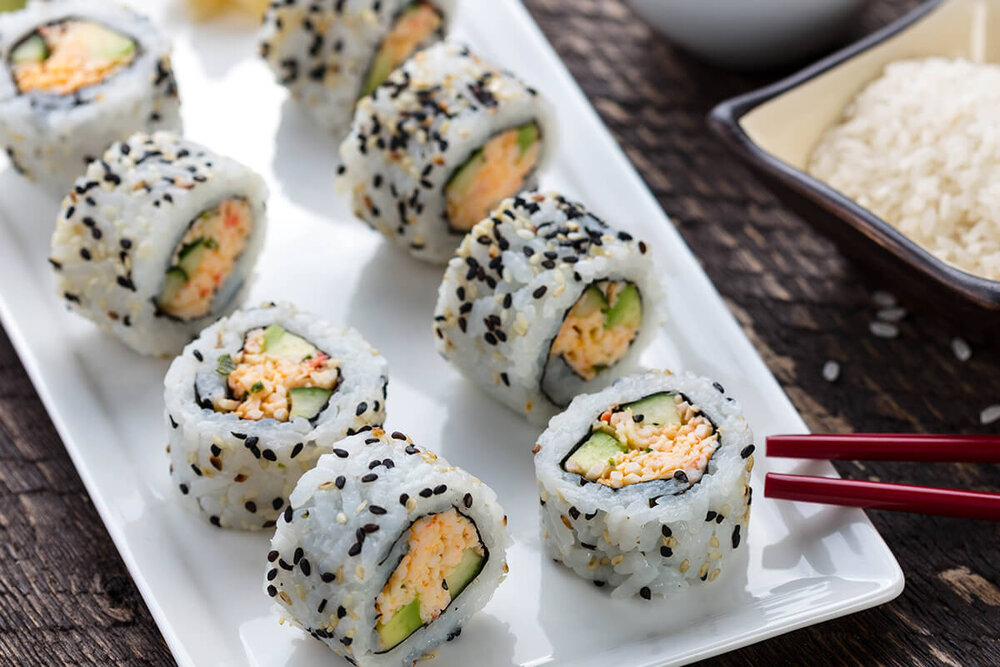 2. Shrimp Tempura Roll- Tempura is a light batter typically used to fry fish and vegetables. The shrimp tempura roll is fried shrimp, avocado, and cucumber. 
Where to get it: Saku Sushi: 478 Queen St West Toronto M5V 2B4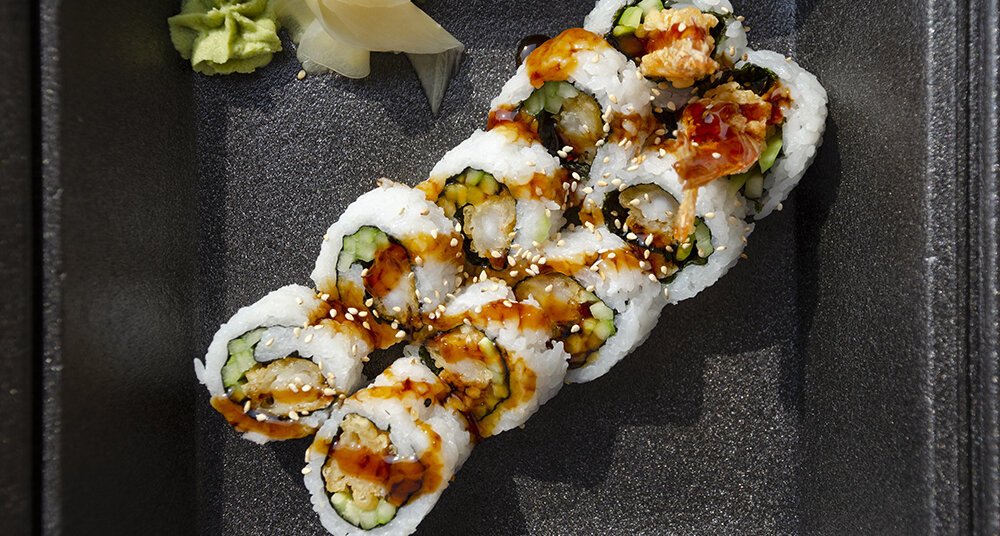 3. Cucumber Roll- Boring, but classic. The cucumber rolls is just that- cucumber. Believe it or not this is a popular roll especially for vegans/vegetarians and for the fact that it is only 136 calories. 
Where to get it: Sugarfish: 33 East 20th Street, NY, NY 10003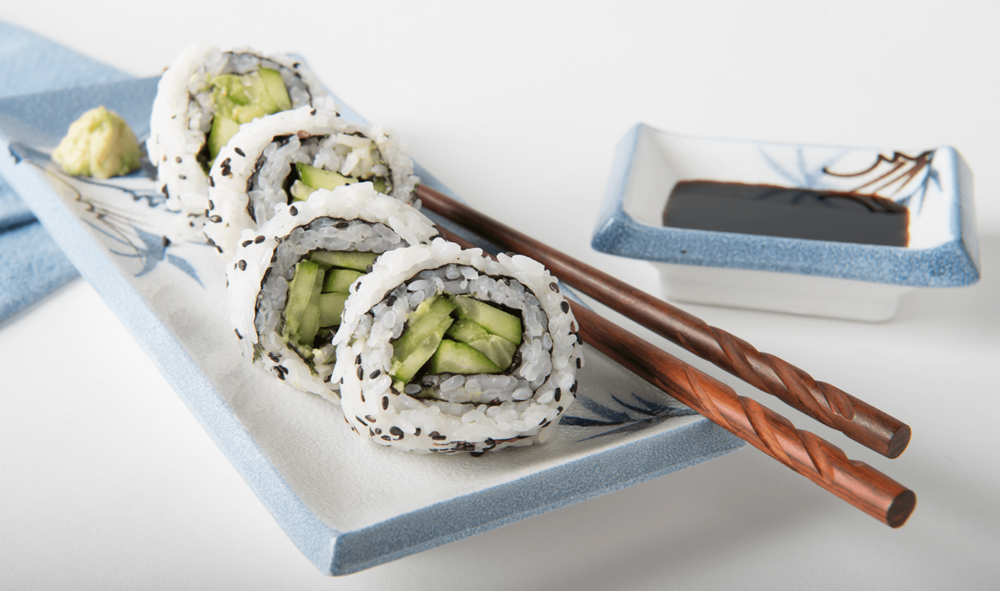 4. Philadelphia Roll- Cream cheese in sushi may not sound appetizing, but this is a crowd favorite. The Philadelphia Roll has salmon, cream cheese, and avocado. 
Where to get it: Yamato Sushi: 616 Davie St, Vancouver, BC V6B 2G5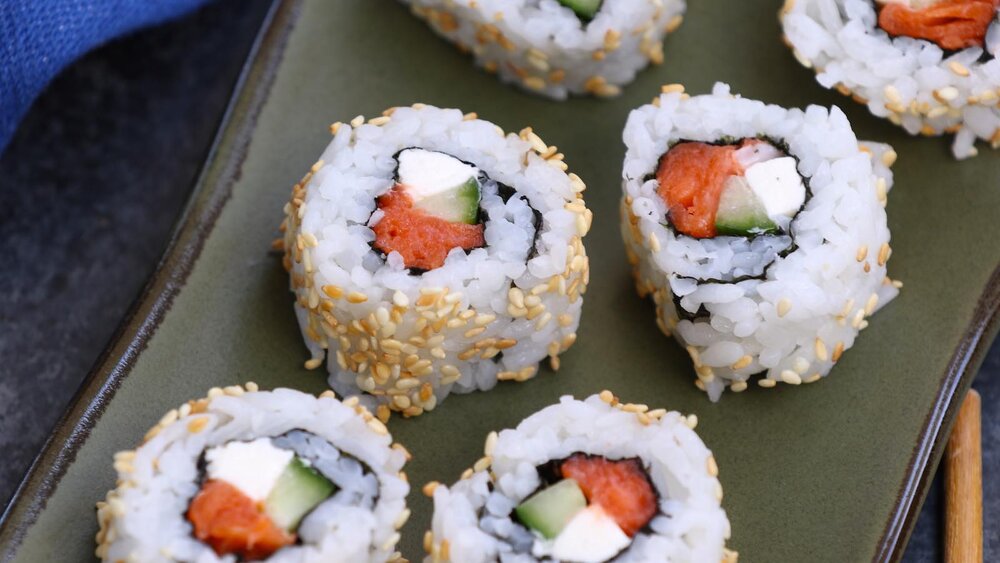 5. Alaska Roll- A Salmon lovers favorite. The Alaska roll contains smoked salmon, avocado, cucumber, and asparagus. 
Where to get it: Kanpai Sushi: 2122 Wilshire Blvd., Santa Monica, CA 90403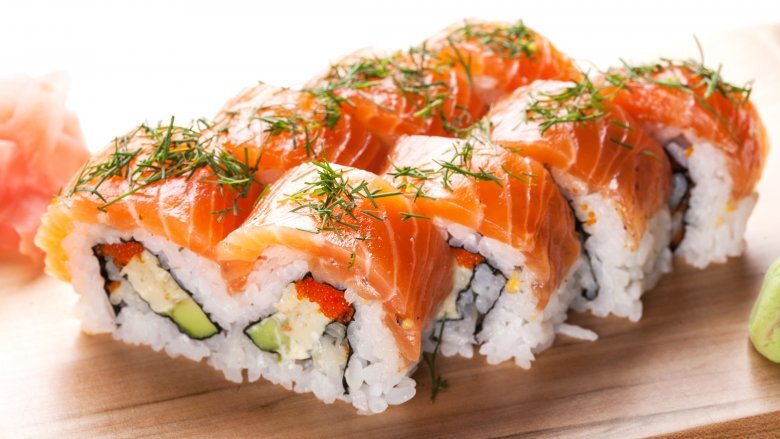 6. Dragon Roll- When I think of the dragon roll I think spicy, but it's quite the opposite. The dragon roll is not spicy and has eel, crab sticks, avocado, cucumber, and eel sauce. 
Where to get it: Murakami:  7160 Melrose Ave., Los Angeles, CA 90046
7. Spicy Tuna Roll- Super simple, but super good. The spicy tuna roll is just tuna and spicy mayo. In this case, less is definitely more. 
Where to get it: Shunoko:1201 St Clair Ave W, Toronto, ON M6E 1B5, Canada