Balancing Social & Work Life With Jeanel Alvarado
By - The Modern Day Wife
16 November, 2020
Photo Credit: Instagram.com/jeanelalvarado
Jeanel Alvarado is a boss babe who wears many hats. Jeanel is the CEO of RETAILBOSS, the  producer at Varado Productions, a speaker, a consultant, a writer, and somehow balances it all while still making time for her social life. We recently talked with Jeanel to get a sense of how exactly she balances her many roles to get us motivated and to get a better understanding of how we can take her advice and translate it into our own lives. Keep reading as Jeanel takes us on her inspiring journey!
RETAILBOSS is an all-in-one platform and B2B directory connecting the retail industry. We provide news, resources, education and consulting to entrepreneurs, small businesses, and boutiques in the retail industry. For us, the definition of retail, is any product or service sold and marketed to consumers for exchange for money. We provide guidance and mentorship through our weekly webinars provided to members of our community in addition to our Startup Retail Virtual Summit. The mission of RETAILBOSS, is to make it easier for entrepreneurs to break into the retail industry, and find partnerships to take their fashion, beauty and lifestyle product ideas from concept to store shelves. Our directory includes wholesalers, manufacturers, packaging companies, product developers, cosmetic chemists, beauty labs and more curated for small businesses who require lower MOQ's (minimum order quantities). We also provide our members with a network of other entrepreneurs in our Mighty Network group, where we support, connect, and inspire each other through our entrepreneurial journeys in retail.
How it came about?
RETAILBOSS was first started in 2011, whereby we started by provided retail news, insights, education and consulting. The community spurred primarily from my consulting services in retail, real estate and technology. The community was first formed from past, and current clients and students who could discuss their entrepreneurial journey, access resources and share business updates to the group. Those in the group, continued to referred other entrepreneurs to join and that's how our community continued to grow internationally. We later added the Mighty Network app to make it easier for members to communicate directly though their mobile device, and we have thousands of members in there today!
The B2B directory was created simply from my passion for the retail industry, and all the connections I had in business, I had a lot of people who would refer me through email to people looking for manufacturers, or wholesalers, or partners and I thought instead of replying to each person via e-mail, I should put all my contacts into a directory.
VARADO productions was started in 2017, from creating events in my city in partnership with other companies, for both fashion, beauty and music showcases. We produced Glow Fashion Show, as well as produced a fashion show and after-party for WCFW (Western Canada Fashion Week). We later expanded into music videos, video advertising, and brand campaign content for independent artists and brands. I also advice any content creators or brands to create their own media or production companies, for contacts are business-to-business, and also you can better protect your ownership rights.  
Have you always been interested in these industries? Take us on the journey of how you got where you are today.
Yes! I have always been interested in the retail industry. When I first graduated from high school, I went straight into studying fashion buying and merchandising. When I began my academics, I soon realized I was most interested in the retailing aspects of fashion, and it was then when I realized I was most fascinated with retailing. The difference between fashion and retail, is that fashion is more on the creative side of developing and introduce products to market, and the retail industry is most concerned with how to convert products to sales. This is done primarily through marketing and branding, as well as operational, e-commerce and supply chain management to complete a retail sales transaction.
Being the CEO & founder of RETAILBOSS, producer at Varado Productions, a speaker, a consultant, and a writer how do you balance your work life with your social life such as traveling and spending time with family & friends and making sure you have "me time"?
It's not easy, but it certainly is possible. It's all about being organized, and outsourcing tasks that can be done by someone else. As an entrepreneur, we have a "do it yourself" mentality. I have a do-it-myself, a few times, until I get bored, and then hire someone to do it for me. And hey, you may be thinking, well "How I find someone who can do it as well as I can?" The answer is you won't, instead you'll write down exactly how to do it. This may be as simple as creating a video or word document explaining, how to complete the task that you are hiring them for. Then, it's done exactly how you want it to be done. If you take the time to create processes, then its not only easy to outsource, it's also cheaper because you don't necessary need anyone with the same skills as you, because you are showing exactly how its done step by step. The freelancer simply is following it, also like a checklist. When it comes to the production side of things, it's important to have standardized proposals, contracts and list of possible staff to hire for each product. It makes it easier to manage, when you follow systems that have worked for your business in the past, and simply tweet it. When it comes to traveling, I have travelled to China, Europe, Africa, South America, USA and beyond, primarily for business. I currently live in Canada, but as someone who travels regularly due to my international businesses, what's worked for me is to have each trip accomplish both leisure and business. When I travel, I not only conduct business, but I also explore as I am also passionate about learning about different cultures, history and perspectives. If someone is looking to do the say, I always suggest getting business done first, and then adding extra time for leisure.
Photo Credit: Instagram.com/jeanelalvarado
Do you ever feel overwhelmed by all that you have on your plate? If so, how do you stay motivated to do all that you do?
Yes! I would be lying if I didn't say sometimes I do feel overwhelmed. As much as we would like, as an entrepreneur, everything can't always be on your terms and on your schedule. Sometimes, I have multiple events back-to-back, or I have back-to-back trips or back-to-back meetings, where I prefer to only do a few a week at most. One of my biggest inspirations is Warren Buffett, and he try's to ensure his calendar is always empty. I believe, this is essential to work-life-balance, being busier doesn't mean you are being more productive. Some people may be stressed when their calendar is empty, but I find it empowering.
What are some tips and tricks that help you balance your social and work life?
The #1 tip I would give is to do that thing that you don't enjoy first, because the things you enjoy you'll still end up doing anyway. But, if you do the things you enjoy first, then the things you don't enjoy doing may never get finished. The #2 tip would be to let go of instant gratification tasks and enjoy the fruits of delayed gratification tasks. Spending 1-3 hours a day on tasks that are only for today, and have no value tomorrow, is not productive. Instead spend those hours on tasks that are evergreen, and provide value today, tomorrow and beyond. For example, creating instagram posts vs. writing an e-book, I would choose the later. Why this helps balance your life, is because you can promote evergreen content consistently in different ways, while instagram content is short lived, and you are always needing to create new content. The #3 tip is to not work on Sunday's, leave this day for self-care, and brunch dates with your closest girlfriends, to catch up on life, and start your week refreshed. 
What is a piece of advice you could give our readers to help them stay motivated and balance their work and social life?
Happiness comes from achievement. Achievement of one's own dreams, goals and promises. I believe if you want to stay motivated, you always have to be achieving and completing tasks, milestones, and deadlines. Reward yourself for your goals; often entrepreneurs seek outside validation, whether that be from awards, or being written up in Forbes, or simply being told by someone else they are going a good job. But, at the end of the day, you must validate yourself. You must be kindest to yourself, and your biggest fan. I not only work hard, but I play hard; business will be very dull if you don't promote, celebrate, gift a vacation and give bonuses to yourself! You earned it. 
Stay motivated and keep up with RetailBoss and all of Jeanel's endeavors here!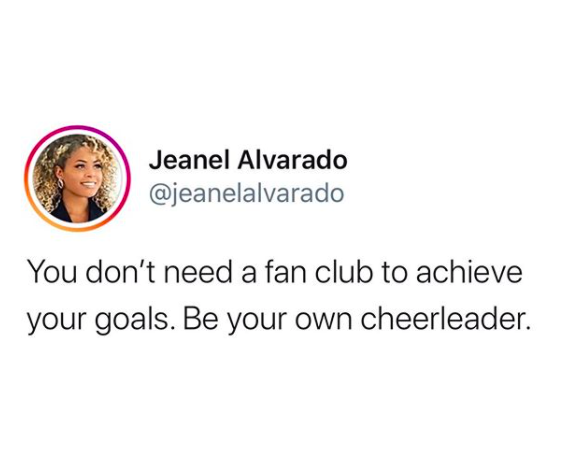 Photo Credit: Instagram.com/jeanelalvarado